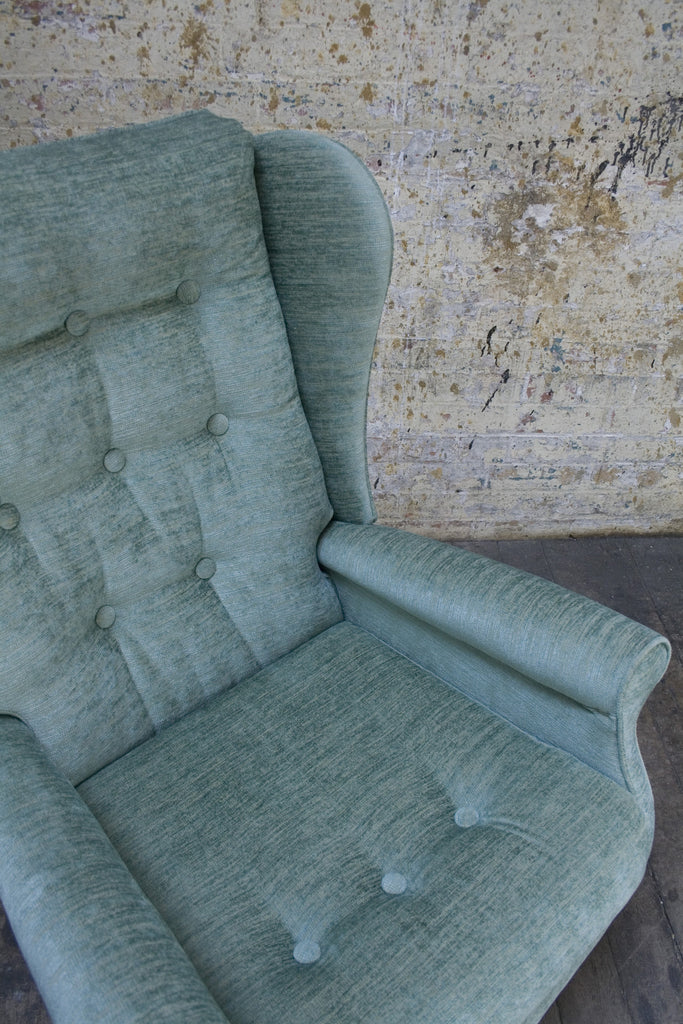 Superbly Comfortable Nursing Chair
£475.00
Enquire now
Interested in purchasing this chair? Please enquire now and our team will be in touch!
Chair Description
Sorry this chair has been sold.
Incredibly comfortable wing chair that would be perfect for use as a nursing chair.
 You can't sit in it yet, but I am guaranteeing that once you do you will agree that it is a comfortable chair.
Hence its remake as a nursing chair. High back, soft arms, pillow back and lumbar support. AND its beautiful to look at as well.
The legs have been painted to compliment the soft grey green Marvic Chenille.
Upholstered by Carol
Delivery Information
We aim to deliver your items within four to seven working days, from time of dispatch and not from the time your order is placed. Items will only be dispatched once payment has been approved.
If you would like to collect your item from us in London please call Carol on 07709011250 or email us at info@thelondonchaircollective.com.
In very special cases we will consider bringing the chair to you for 'trying out'. We know all to well how fabric and size will affect your decision. Limited only to London.
We currently only ship to the UK mainland.
All orders come carefully packaged with lots of padding to keep them safe, however wherever possible we use recycled boxes so they may not look as pretty on the outside as they do on the inside!
Delivery Charges
We have a sliding scale of charges based on size. Small - £50 Medium - £75 Large - £100 The delivery charge will be added to the cost in the payment process at the checkout. It is in addition to the price of the item shown in the shop..
Refunds
Please note that all furniture is NON RETURNABLE AND NON REFUNDABLE. Our furniture is all vintage and therefore shows signs of wear and tear in accordance with it's age. We try to give an accurate and honest description of each piece to the best of our abilities..