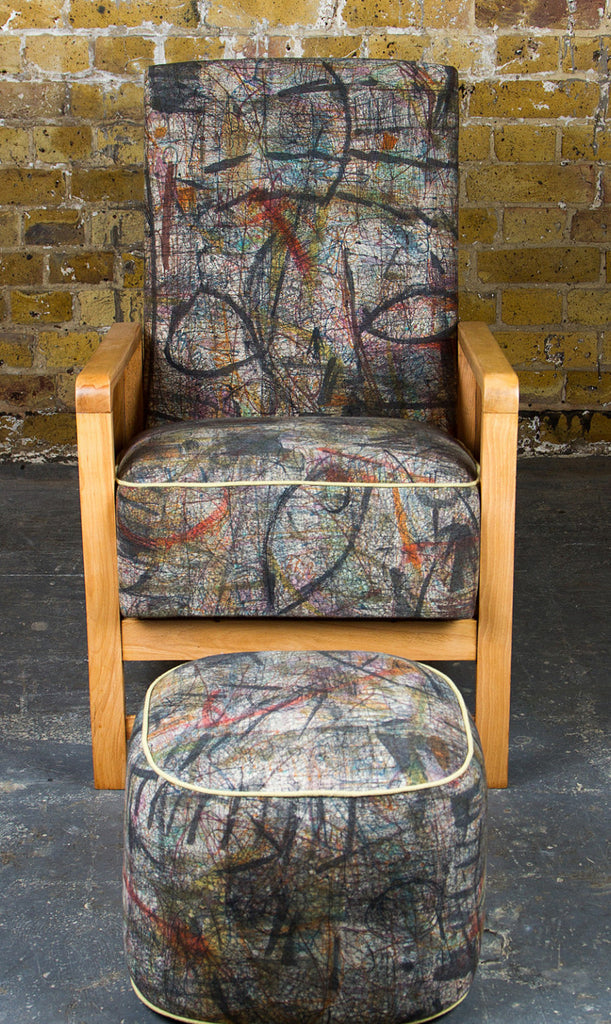 Recliner and footstool
£0.00
Enquire now
Interested in purchasing this chair? Please enquire now and our team will be in touch!
Chair Description
This chair has been sold.
This wonderful steampunk-styled 1940s  recliner in beech with matching footstool  is upholstered with densly-painted hand-dyed linen. Jo has written a blog on how she paints and dyes the fabric here.
Jo just completed a self imposed 100 days of black and white challenge.  Posted on Instagram she works on paper with watercolour, pens and stuff.
Upholstered by Johanna
At first glance you might be forgiven for thinking that my chairs are finished with printed fabric, however, this is not the case. Each is upholstered using unique fabric which I have created by painstakingly drawing the design using traditional hand-dyeing techniques.
Each chair is an individual work of art.
They are period chairs which have all been lovingly reworked/upcycled to the highest standards with top quality upholstery materials and using sustainable options where possible. A surprise hand-dyed bottom cloth is also a unique feature of my chairs.
Delivery Information
We aim to deliver your items within four to seven working days, from time of dispatch and not from the time your order is placed. Items will only be dispatched once payment has been approved.
If you would like to collect your item from us in London please call Carol on 07709011250 or email us at info@thelondonchaircollective.com.
In very special cases we will consider bringing the chair to you for 'trying out'. We know all to well how fabric and size will affect your decision. Limited only to London.
We currently only ship to the UK mainland.
All orders come carefully packaged with lots of padding to keep them safe, however wherever possible we use recycled boxes so they may not look as pretty on the outside as they do on the inside!
Delivery Charges
We have a sliding scale of charges based on size. Small - £50 Medium - £75 Large - £100 The delivery charge will be added to the cost in the payment process at the checkout. It is in addition to the price of the item shown in the shop..
Refunds
Please note that all furniture is NON RETURNABLE AND NON REFUNDABLE. Our furniture is all vintage and therefore shows signs of wear and tear in accordance with it's age. We try to give an accurate and honest description of each piece to the best of our abilities..