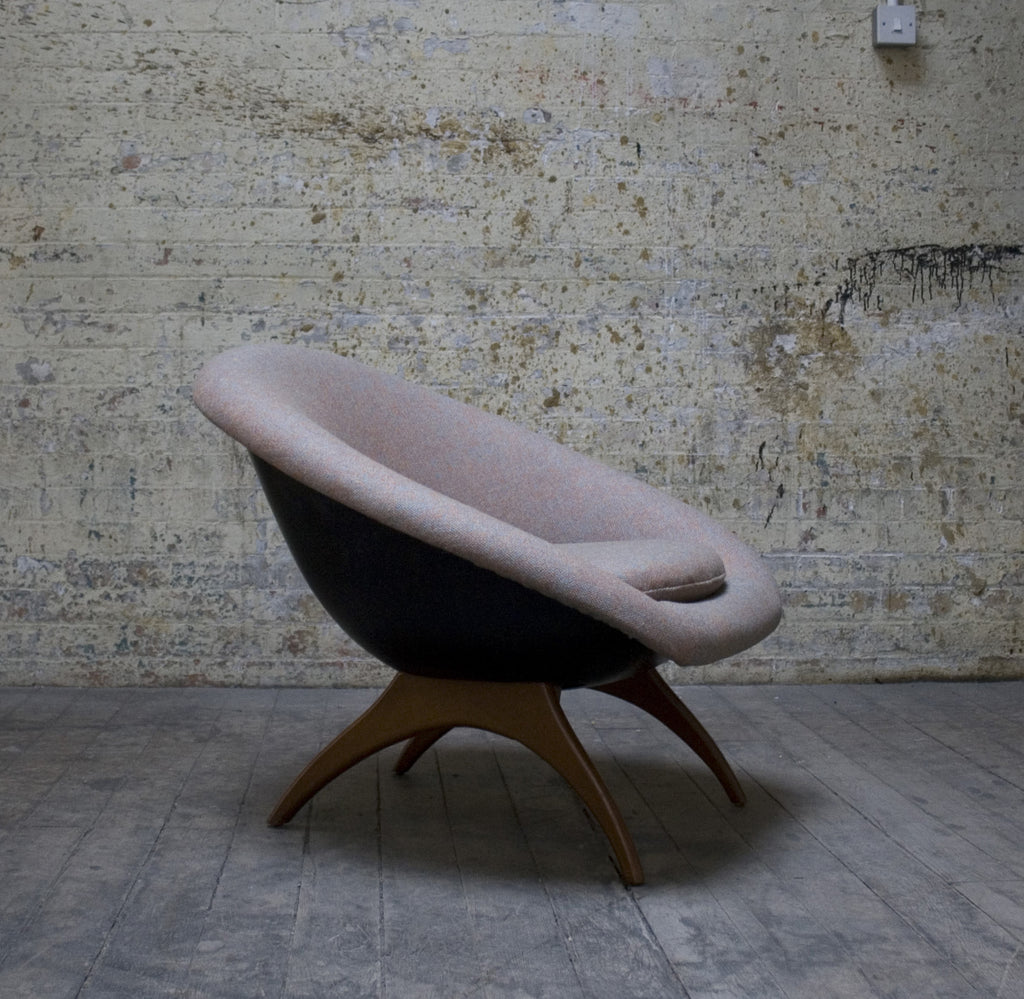 Lurashell Pod Chair
£485.00
Enquire now
Interested in purchasing this chair? Please enquire now and our team will be in touch!
Chair Description
Sorry, this chair has been sold.
1960's seating designed by Walter S Chenery for Lurashell.
The shell is made of black fiberglass and the original removable covers have been replaced with BUTE Heathered Tweed.
The chair has teak trestle legs with a stylish angled shape that splays out onto two feet at the bottom. VERY RETRO!
The original label has been retained.  It reads... Angelina (the name of the design) and the date  March, 1969.
Dimensions approx 78cm wide and 85cm high. It is lightweight and can be moved easily.
The chair is in good condition and there are no cracks in the fiberglass which is in perfect condition.  The deep black of the underside of the chair is a fantastic contrast to the fabric and the teak legs.
Upholstered by Carol
Delivery Information
We aim to deliver your items within four to seven working days, from time of dispatch and not from the time your order is placed. Items will only be dispatched once payment has been approved.
If you would like to collect your item from us in London please call Carol on 07709011250 or email us at info@thelondonchaircollective.com.
In very special cases we will consider bringing the chair to you for 'trying out'. We know all to well how fabric and size will affect your decision. Limited only to London.
We currently only ship to the UK mainland.
All orders come carefully packaged with lots of padding to keep them safe, however wherever possible we use recycled boxes so they may not look as pretty on the outside as they do on the inside!
Delivery Charges
We have a sliding scale of charges based on size. Small - £50 Medium - £75 Large - £100 The delivery charge will be added to the cost in the payment process at the checkout. It is in addition to the price of the item shown in the shop..
Refunds
Please note that all furniture is NON RETURNABLE AND NON REFUNDABLE. Our furniture is all vintage and therefore shows signs of wear and tear in accordance with it's age. We try to give an accurate and honest description of each piece to the best of our abilities..