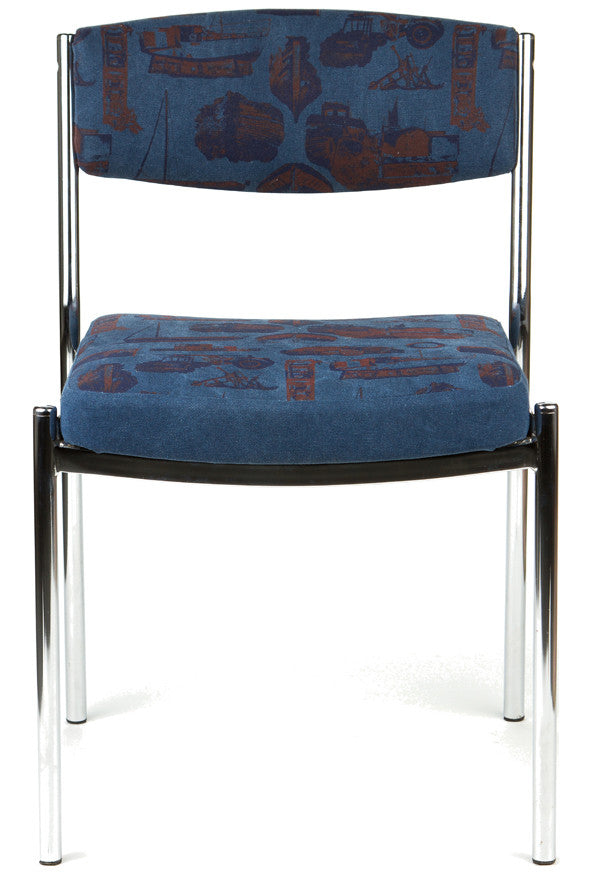 1980's Chrome Waiting Room Chairs : 4
£1,400.00
Enquire now
Interested in purchasing this chair? Please enquire now and our team will be in touch!
Chair Description
from the Boatyard Collection; an ongoing collection of recycled furnishings and new fabrics inspired by living and working in Faversham, North Kent.
The most modern chairs in the current collection were sourced directly from an office building.
The waiting room chairs required the chrome work to be re polished but they have retained the sense of the decade they were born in.
An different approach was taken to designing the colour way for this style chair. The rusty red colour represents the colour used in dying the sails of traditional Thames barges.
The chairs have been upholstered using a combination of fillings derived from new wool, recycled foams, recycled plastic bottles and recycled textiles.
Cover fabric is 100% Cotton.
THE BOATYARD COLLECTION:  On the banks of the creek I've known for most of my life there is a world few people see. Traditional Bargewrights and Boat Builders find themselves sharing spaces with a mixture of light industry, logistics and retail outlets. The uniqueness of the combination in my home town has given me the opportunity to produce a locally sourced nautical collection far removed from pressed white slacks and squeaky clean deck shoes.

An ecologically sensitive approach to re upholstering the chairs is at the heart of each restoration. Care has been taken to combine fillings from recycled, natural and sustainable sources whilst maintaining compliance with UK domestic fire regulations.
Design by Alex Law
Set of  4 chairs   £1400

Delivery Information
We aim to deliver your items within four to seven working days, from time of dispatch and not from the time your order is placed. Items will only be dispatched once payment has been approved.
If you would like to collect your item from us in London please call Carol on 07709011250 or email us at info@thelondonchaircollective.com.
In very special cases we will consider bringing the chair to you for 'trying out'. We know all to well how fabric and size will affect your decision. Limited only to London.
We currently only ship to the UK mainland.
All orders come carefully packaged with lots of padding to keep them safe, however wherever possible we use recycled boxes so they may not look as pretty on the outside as they do on the inside!
Delivery Charges
We have a sliding scale of charges based on size. Small - £50 Medium - £75 Large - £100 The delivery charge will be added to the cost in the payment process at the checkout. It is in addition to the price of the item shown in the shop..
Refunds
Please note that all furniture is NON RETURNABLE AND NON REFUNDABLE. Our furniture is all vintage and therefore shows signs of wear and tear in accordance with it's age. We try to give an accurate and honest description of each piece to the best of our abilities..